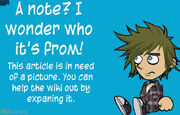 Turn Back Around is a the most popular song by The Really Good Band That Does Not Suck. Only part of the song has been shown, so nobody knows all of the lyrics.
Lyrics (that we know of)
Edit
Turn, turn, back around
You had a bad day, make it good again (pronounced a-gain)
Turn, turn, back around
Cheer up, because the day is over. Solo time!
(Solo)
Ad blocker interference detected!
Wikia is a free-to-use site that makes money from advertising. We have a modified experience for viewers using ad blockers

Wikia is not accessible if you've made further modifications. Remove the custom ad blocker rule(s) and the page will load as expected.